Customised Reusable Face Mask
Subjected to 7% GST charge
Specifications
Available Sizes:
-Adult: 22cm X 13cm
-Kids: 18cm X 11.5cm
Printing: Full Color Printing
Material: Comfortable & Washable Cotton Polyester
Adjustable Ear Loops
Dual pocket for insertion of PM 2.5 Filter for added protection
Individually Packed into OPP pack
Production leadtime: 3-4 weeks (Please see information below for FAQ)
Description
Custom Face Mask Printing Singapore
Love it or hate it, face masks are now a staple in our day to day fashion.
Are the common disposable surgical masks are cramping your style? Interested in something a little more unique and a little less wasteful? At Vivopress, we want to help families, brands and companies make the most out of this new daily routine. Introducing our sensational new line of custom reusable face masks. Explore a whole new way of expressing solidarity with your family members, brand communities, corporate teams and more through our face mask printing service.
For our retail clients, get your brand the attention it deserves with this latest style accessory and for our corporate clients create a sense of camaraderie with a professional corporate mask design. Have a design of your own? Or looking to design a custom face mask? Reach us to us via the form above to get started today!
.
Key Features of our Custom Face Mask Printing:
– Made with 100% Cotton Polyester for Ultimate Comfort and Breathability
– Reusable and Machine Washable for Ease of Use (Remove filter before washing)
– Washable to up to 30 times.
– Designed with Dual Hole Inner Pocket Layer for Added Protection Via Insertable PM2.5 Filtration Paper or disposable surgical masks
– Adjustable and Stretchable Ear loops for Optimal Fit for Each Individual. Say Goodbye to Uncomfortably Tight fit and Abrasive Marks.
– Fully Customizable Design For All Your Design Needs
– Our reusable masks has passed textile safety report and are suitable for daily use and wear
– Minimum order of only 50 pieces.
---
Frequently Asked Questions
Can I print my own artwork on the masks?
Yes, the price stated in our website is inclusive custom face mask printing. This model of masks can be printed in full surface area (all the way to edge) and can be printed in full color.
.
Is there a nose bridge wire? 
Nope, there is no need for the nose bridge wire as the masks is sewn in a shape which already accommodates the shape of the nose.
Is the material of the masks made of anti bacterial fabric?
Nope, the masks is made of a 2 ply material – outer polyester and inner cotton with a pocket slot for you to insert PM 2.5 Filtration Paper or disposable masks for added protection.
If you are looking for reusable face mask with anti bacterial features, please click here for our anti-bacterial reusable masks material.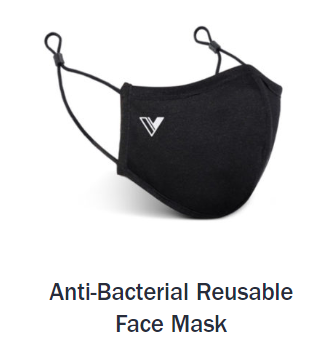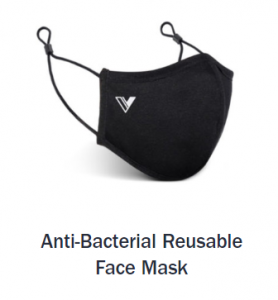 What is the production leadtime?
Mass production takes 3-4 weeks depending on order quantity, shipment type and specifications.
I have an urgent delivery date, can i shorten the leadtime?
At times, we are able to deliver within 2 weeks from the order confirmation time. However, it depends on case by case basis.
Do email us with your delivery deadline and we will be able to work out a solution for you.
Can I request for some samples to review the quality?
Sure, samples are available at our office for viewing. Do give us a call before you drop by.
Alternatively, if you require us to send you the samples, kindly do email us at quotation@vivopress.com.sg to request for samples. Kindly do indicate your required qty and order specifications for along with your request, thank you!
How is the Reusable Face Masks packaged?
The masks are individually packed into plastic pack for hygienic and easy distribution.
Vivopress do carry a range of customisable products that are popular during this COVID-19 period such as mask storage boxes and caps with face shield. Please visit our pandemic essential page to view all the related products.
For more enquires on our custom face mask printing services, please feel free to email at quotation@vivopress.com.sg.