Anti-Bacterial Reusable Face Mask
Subjected to 7% GST charge
Specifications
Printing: 1 Color Silkscreen Printing (Inclusive in quote)
Material: Triple Layer Silver ion Antibacterial cotton
Adjustable Ear Loops
Anti Odour and Fresh Feeling
Packaging: Individually packed
Other services: Embroidery of logo, epoxy print of logo, full surface printing and adding of nose bridge wire is available, do email us for an accurate quotation 
Description
Custom Face Mask Printing Singapore
We all know how essential face masks is to our everyday life by now and the vivopress team is working hard to bring you the most suitable face masks with cool features for our corporate clients who are looking to distribute Anti-Bacterial Reusable Face Mask with customised logo printing or embroidery to their staff. Check out our key features of the custom face mask printing below:
Key Features of our Anti-Bacterial Reusable Face Mask
– Triple Layer Silver Ion Antibacterial Cotton incorporated with SILVADUR™ technology
– Kills 99.9% bacteria for up to 50 washes
– Comfortable & Breathable 100% Cotton for long hours of wear throughout the day
– Adjustable ear loops to fit faces of any size
– Anti Odour and Fresh Feeling Textile used for the production of the reusable masks
– Certification for Anti-Bacterial Textile are available for review and included in each pack
– This product has a shelf life of 3 years
– Custom Face Mask Printing – Customization of Logo Print (via silkscreen or embroidery of logo)
The anti-bacterial reusable face mask is suitable for corporate clients looking to distribute to their staff for operational daily use and for clients who are looking to give our these custom face masks as a corporate gift.
Frequently Asked Questions: 
1. Can I print my own artwork on the masks? 
Yes, the price stated in our website is inclusive custom face mask printing (1 color logo printing). We are able to print full color on this mask and we are able to do logo embroidery on the masks as well. For a more accurate quotation, kindly do send us a reference image of your logo along with your requirements to quotation@vivopress.com.sg
If you require full color printing (on full surface) on your custom face mask, please click here for another model of our reusable face mask.
2. Is there a nose bridge wire? 
No, the default option doesn't comes with a nose bridge wire. However, we would be able to add in one for you should you require.
3. Is there a pocket slot for filtration paper? 
Nope, these custom printed masks already consist of 3 plys : 2 plys of comfortable 100% cotton and a middle ply which serves as filtration system and incorporated with SILVADUR™ technology for effective protection. Therefore, there is no need for a pocket to add the filtration paper.
We have another custom face mask model that comes with a pocket for filtration paper, please click here to view the product: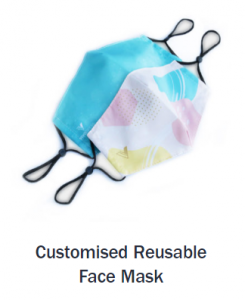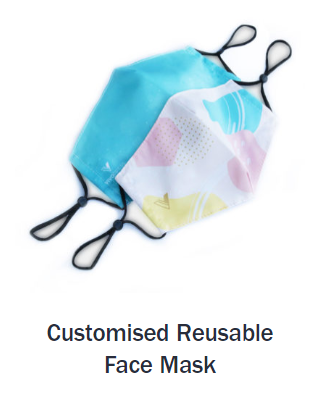 4. What is the production leadtime? 
Mass production takes 3-4 weeks depending on order quantity, shipment type and specifications
5. I have an urgent delivery date, can i shorten the leadtime? 
At times, we are able to deliver within 1-2 weeks from the order confirmation time. However, it depends on case by case basis.
Do email us with your delivery deadline and we will be able to work out a solution for you.
6. Can I request for some samples to review the quality? 
Sure, our custom face mask samples are available at our office for viewing. Do give us a call before you drop by.
Alternatively, if you require us to send you the samples, kindly do email us at quotation@vivopress.com.sg to request for samples. Kindly do indicate your required qty and order specifications for along with your request, thank you!
7. How is the Reusable Face Masks packaged? 
The masks are individually packed into plastic pack for hygienic and easy distribution.
For more enquires on our face mask printing services, please feel free to email at quotation@vivopress.com.sg.
For more ideas on corporate gifts that's functional and popular during this year, see here for all our pandemic-related custom corporate gifts.